GoCustom Clothing has a simple goal - to offer an extensive range of garments which customers can print and embroider with their logos or designs quickly and easily.
Whether you're after a single garment or 10,000 plus, our industry expertise and significant infrastructure means that we can deliver - and quickly.
It's this flexibility of approach that enables GoCustom Clothing to cater to all markets, including:
Businesses │ Charities │Groups, Societies & Sports Teams │ Schools │ Stag & Hen Parties | Private Individuals
These Services Are All Offered In-House:
Screen Printing
Transfer Printing
DTG Printing (Direct to Garment)
Embroidery
Artwork & Digitisation
Measuring Service
Relabeling
Barcoding
Retail Bagging
Tax Tabbing
Individual Packing
Because we're the best....
Personal Service
However you choose to place your order, you can rest assured that we have a vastly experienced team that's 100% committed to ensuring that you're happy with your order. Even though you place your order online, we'll check and question everything until we're completely satisfied that we've interpreted your request correctly. We'll also keep you informed every step of the way.
Quick Production and Delivery
If you need something quickly, we'll do everything we can to make it happen. You can read more about our delivery times here.
Easiest Online Ordering
Ordering personalised clothing online can be a painful process if you're unfortunate to land on the wrong website. Our intuitive order process guides you step-by-step to easily customise your chosen products. 
Huge Online Product Range
We have a huge range of garments available for personalisation and purchase online. If that's not enough for you, we have access to thousands more so if there's something specific you're after just let us know and if it exists, the chances are we'll be able to source it!
No Minimum Order Quantity
Whether you wish to order 1 garment or 10,000 garments, we genuinely welcome working with you.
Quality Assurance
We're proud holders of British Standards Institution accredited ISO9001 Quality Systems Standard (licence # FS548982). This demonstrates our commitment to the ongoing improvement of both our internal systems and service we deliver to our customers.
Environment
We're aware of our social and environmental responsibilities and maintain the BSI certified ISO 14001 accreditation (licence # EMS 548983) for Environmental Management. 
Learn more about our sustainability commitments here.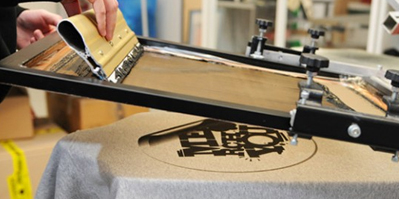 GoCustom Clothing is part of the Kingfisher Leisurewear Ltd group, formed in 1996 and still owned and run by the same family.
Based in the UK in Ludlow, Shropshire, with a European export office in Madrid, Spain, our thousand's of active customers are spread across all sectors ranging from the large blue chip PLC's through to small and medium sized businesses. The one determining factor which links them all is the level of service which we strive to give them.
A selection of customers that put their trust in us