Quality warnings when designing garments
Nobody wants to have their products created with low-quality prints, which makes us look bad, and you look bad in front of your customers.

When you use the garment designer our platform performs several checks to try and ensure that the artwork is suitable to print. You may see several warnings (which we will describe below), you can choose to ignore these warnings, but note you do this at your own risk. Our system asks you to accept the warnings in case you decide to continue. GoCustom is not responsible for the quality of the artwork you add to the system.


Image Types


The only file types which you can upload are PNG (best option) or JPG. If you try to upload any other file type you will receive a warning that it is not compatible.
PNG files will print best and will also include any transparency that you may have in your artwork. We recommend working in RGB colours for your artwork creation. 
For the best output use our design templates which you can find on the 'Artwork Templates' tab on every product page.



PPI warnings
You may see warnings that your image is either 'Bad quality' or 'Average quality'.

When you upload an image, we check the PPI (Pixels Per Inch). We recommend that the artwork is uploaded as a 300 PPI PNG file. But it's not as simple as just saving your image at 300ppi, you should also pay attention to the size that you would like the artwork printing at.

The size is important as you want to avoid stretching the artwork to fit your required position on the canvas. For example, a 200 x 200-pixel image will look horrible when stretched the full width of a T-Shirt canvas (just over 4000 pixels), even if it is produced at 300ppi.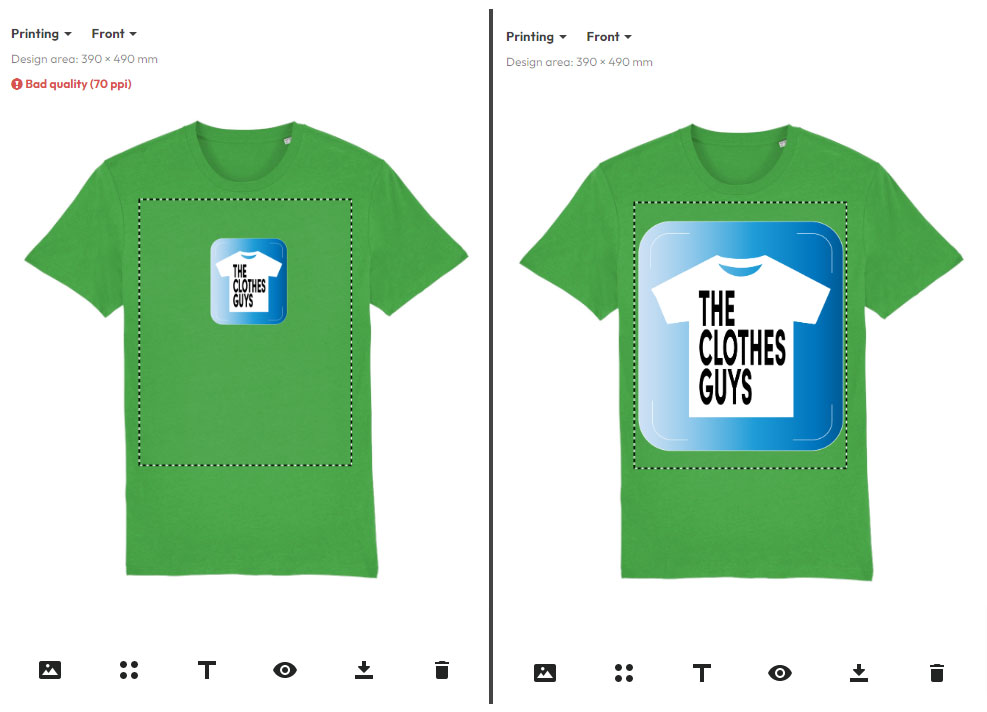 Take a look at the images above. The left shows an image uploaded which is only 400 pixels wide, this is showing the PPI warning. The right shows an image uploaded which is 4600 pixels wide, this is perfect for printing and does not show any warnings.


Scaling up your images
Don't fall into the trap of thinking you can open your image in photoshop and scale it up or save it with a higher PPI. Unless you are scaling up the original vector artwork, this isn't going to work. 


Templates
The best way to ensure you create artwork that will print satisfactorily is to use our photoshop templates. On each product page, you will find a tab which includes an artwork template for the various print positions. Use these templates as a guide and output a png file from them.


Exceeding boundary warnings
The dotted line shown on the garment is the printing area, if your text or images sit outside this area you will see a warning about the artwork exceeding the boundary. Always make sure that your items sit within the dotted line, otherwise, they will not be printed on your garments.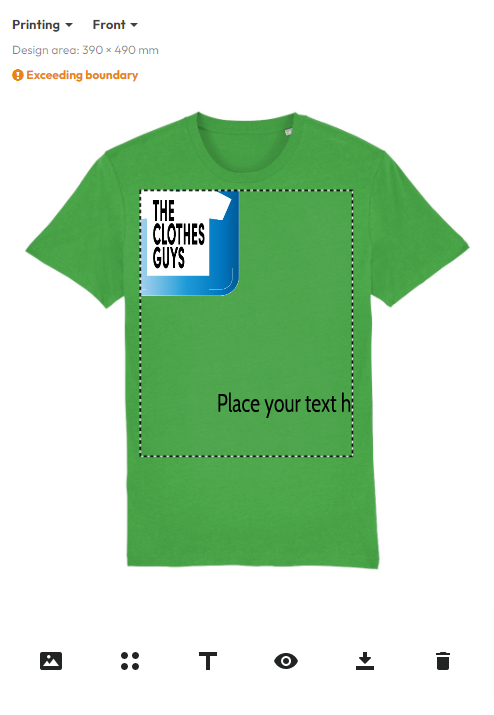 Accepting the warnings
When you have finished designing your product you will click on 'Create Product', at this point you will be presented with any remaining warnings. Clicking 'Continue' here means that you accept the artwork and are happy for us to print exactly what you have created.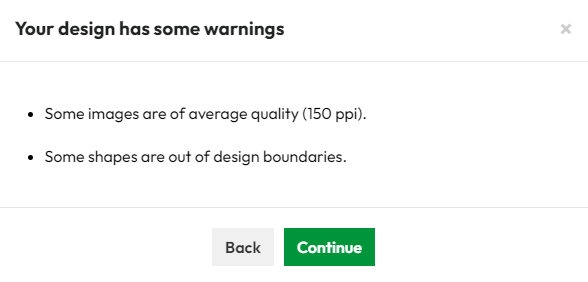 This acceptance is stored with your product, we cannot accept any issues if you are not happy with the print quality due to poor quality artwork.