Advice on the best way to look after your customised garments
You want your customised garments to last and to look good for as long as possible. Following these guidelines will help you to get the most out of your clothing.
Because your garment is customised it's not as simple as reading the care label which is stitched in the garment. In addition to the care label instructions please ensure the following:
Wash inside out - this helps to protect the customisation from getting damaged, close zips and check pockets are empty
Wash at 30°C 
Do not use bleach or harsh detergents/fabric conditioners
Do not overload the washing machine
Wash with similar colours and similar textured garments, at least for the first few washes as colours can run.
Dry immediately after washing - do not leave garments wet
Do not tumble dry
Do not dry clean
Iron inside out using the lowest heat setting, this is especially important for printed products
It's best to wash a new garment before its first use
Failure to follow the care advice will invalidate the warranty of your garments.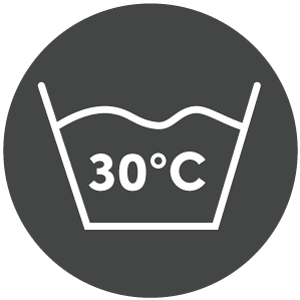 Wash at 30°C
This will ensure the customisations stay looking their best for longer. It's also better for the environment!
We understand that for certain items, particularly workwear worn in harsh conditions, washing will need to be at a higher temperature. When this is the case we would recommend embroidered garments as they are much more hardwearing.